I think the biggest adjustment I have to make to Mr. b staying home with the kids is when to feed Bundle in the morning. So far I've been able to sneak out of the house in the dark before anyone even gets up. I have my alarm set for extra early so I can go pick the little girl out of her crib and nurse her in bed before I start getting ready. Then I just leave her in bed with her daddy. This works even if she wakes up at 4 or 5 am, too. And then I don't have to try to pump before I leave or when I first get to work or something else ridiculous like that.
We're also working on a new bedtime plan. Now that Ronnie is home all day her naps are definitely being curtailed. I think she is fine on only one a day already instead of two still. She takes boobie snoozes with me in the evening when she's nursing post-dinner. So then when her brother is in bed and she's still not going to sleep I hand her off to her daddy. Generally I can get her down but she won't
stay
down. She'll sleep in her crib in their bedroom for maybe 30 minutes and then wake up and want more Mama. It's a fine line but I'm starting to figure out when she's *actually* still hungry and when she just wants to be held. Since just holding her without sticking a boob in her mouth is not an option in her mind, and I don't want to be a pacifier, then it's Daddy's turn. I make myself scarce and he pat-pats her back to sleep. It's working pretty well. And getting her used to falling asleep without a boob is good since weaning is looming ever closer.
Veronica's definitely in a Mama Phase though. As soon as I get home from work she demands that I hold her. Doesn't matter what she's doing, eating or menacing, she wants me to pick her up. She race-crawls over to me if she's not in her high chair and hauls herself up on my leg, begging to be picked up.
It's just crazy how much she's grown. I've completely failed to keep updating her new accomplishments. Maybe about three (four?) months ago we took down the changing table because we were changing her on the floor more often anyway. She sits up on her own since late September, about 6 and a half months. Just after 7 months she started crawling properly, on her knees with her belly off the ground. From there it's been exponential. At first she'd pull herself up on furniture to her knees.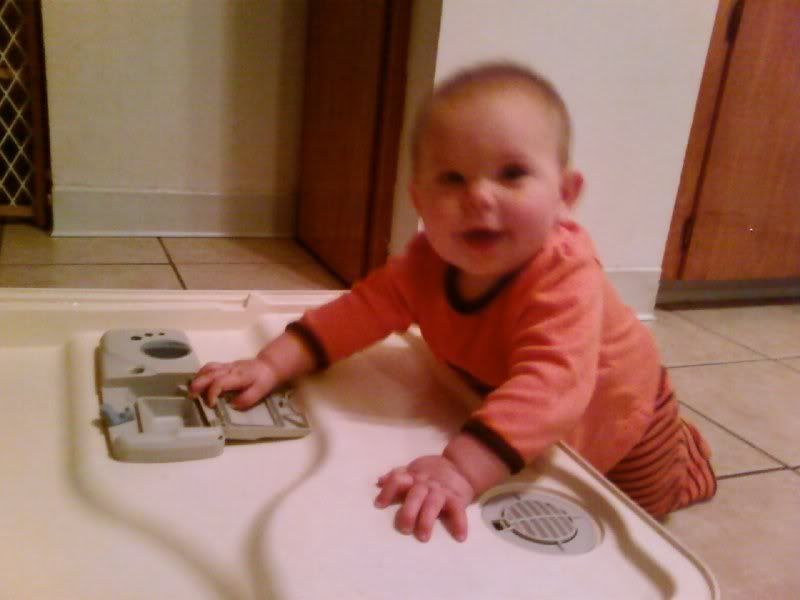 And then a week later on to her feet.
She can now easily transfer her weight well enough that she moves along the edges of furniture or can go back and forth between the couch and ottoman or our knees and the chair or whatever. Her bottom two teeth cut through simultaneously Halloween weekend, just a week before the 8 month mark. I haven't figured out which teeth are coming next but there's definite movement going on in there again. It's just been a constant stream of new developments. I don't remember them coming this rapid-fire with Kirk. There was more of a sense of ebb and flow. He'd have a new trick and then that would last for a while. Then we'd get a slight step back to warn us something new was coming up. I don't know if this is a girl thing or a second child thing but it's rather amazing to witness. I had Mr. b lower the mattress in her crib so she couldn't launch herself over the bar (I'm seriously expecting her to hoist herself into the bathtub while she's "supervising" her brother's bath one of these days…) but we're already talking about getting her a big girl bed. Time to start looking for bunk beds.
I can't decide if Ronnie is starting to pick up on sign language or not. I haven't been using it as much with her as I did with Kirk. And I know her father isn't using it at all. But she keeps doing certain motions with her hands that seem a bit more deliberate than just "Hey cool! These things are attached!" I also don't remember when Kirk started obviously responding. But it seems like we've
always
been able to communicate with him so it must have been early. I guess it's time for me to start reviewing archive posts and see how their timing really does compare.